BF-109E4 9.JG/52 Leopold "Bazi" Steinbatz. Balkans 1941
Posted:
Wed Feb 06, 2013 10:37 pm
Leopold "Bazi" Steinbatz (born 25 October 1918 in Vienna, Austria, killed in action 23 June 1942 near Vovchansk, Kharkiv Oblast, on the Eastern front) was a German former Luftwaffe fighter ace and sole non Officer recipient of the Knight's Cross of the Iron Cross with Oak Leaves and Swords during World War II.
After service in the Austrian Army Steinbatz joined the Luftwaffe as a trainee pilot in 1939. By November 1940 Steinbatz was posted to 9 Staffel of Jagdgeschwader 52.
He often flew as wingman to future high scoring ace Hermann Graf, first seeing combat during the invasions of the Balkans and Crete.
He gained his first victory over the Soviet Union in early August 1941, by the end of November, he had claimed some 25 kills. In February 1942, Feldwebel Steinbatz was awarded the Ritterkreuz for 42 victories.
He continued to score consistently through the summer air offensives and shot down seven Soviet aircraft on 8 May.
Oberfeldwebel Steinbatz was awarded the Eichenlaub in June 1942. By mid June 1942, he had 95 claims to his credit.
However Steibatz had some fatigue problems after returning from leave in January 1942. He had dislayed a combat fever.
Hermann Graf said:
"After his return he proved to be absolutely reckless. He entered an unparalleled victory march, scoring one victory after another! As he achieved his no. 80 and was expected to be awarded the Oak Leaves, I urged him to take some leave. The combats had put a tremendous strain on his nerves. This was shown on several occasions.
I grounded him for a couple of days, but then he requested that I allow him to start flying combat sorties again".
On 15 June 1942, Steinbatz recorded his 99th victory but, during the return from a combat sortie on this day, his Bf 109-F was hit by Soviet anti-aircraft fire and he was killed after crashing into a forest near Vovchansk.
Steinbatz was posthumously promoted to the rank of Leutnant and awarded the Schwertern on 23 June 1942.
By this time "Bazi" Steinbatz had flown about 300 combat missions and shot down 99 enemy aircraft, all on the Eastern Front.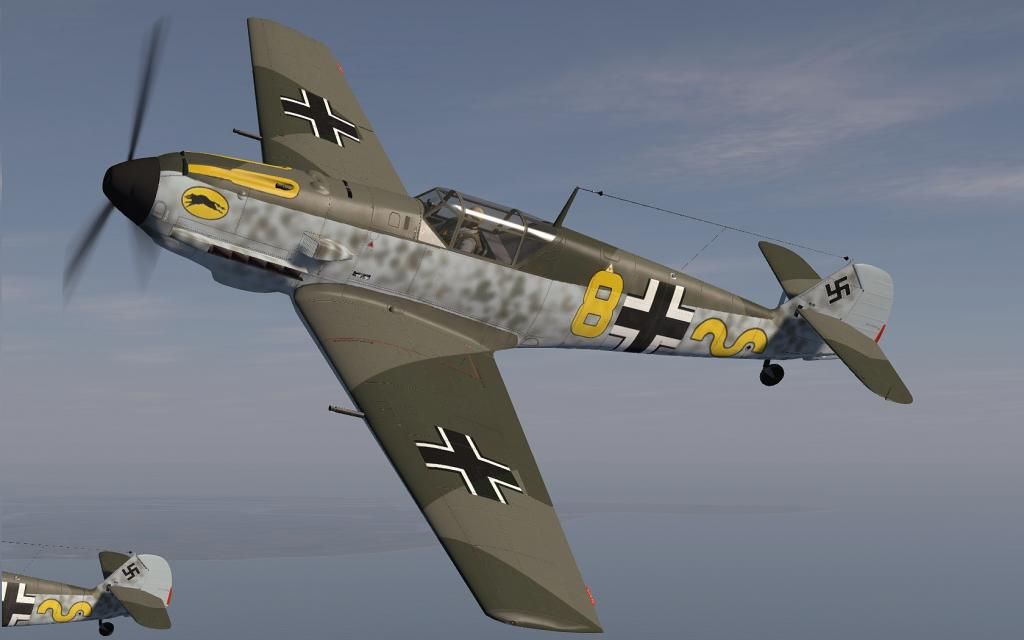 Click on image and it will re-size to correct 2048 x 2048 dimensions then Copy and Paste into appropriate Skins folder
image
[/QUOTE]