Posts: 4183
Joined: Tue Jun 09, 2009 12:11 pm
Location: Milky Way Galaxy, Sun System, Earth, USA...Somewhere roaming in the mid-west of America! LOL!
Hi,
IL-2 Sturmovik 1946 combat flight simulation
- Image and Performace Guide
The computer, free tools, and IL-2 are connected and explained here. This is a guide on getting your IL-2 to look better and run smoother while using computer related technical tools to do it.
Better Synergy Here Has Resulted in More Content and Improved Organization.
Highest Image Quality or Stutter Reduction are found in:
Benchmarking, Optimizing, and Tweaking subtopics.
Over 100,000 views of this topic have benefited people, helping thousands to better enjoy IL-2.
You are the Commander in Chief of your hardware, software, and the virtual forces in your computer. As the master of your domain, you can get much useful information here.
Enjoy your journey as you find more satisfaction with IL-2...
My IL-2 runs well with an ordinary Laptop computer! You can increase performance, improve graphics look, and do it all reliably. I rarely have a stutter and no more freezes-despite turning my graphics settings up. It is a stunning improvement. Some scenes look like a motion picture.
OpenGL
Here is an example of the kinds of scenes that I typically enjoy while in the IL-2 Sturmovik 1946 combat flight simulation. This is OpenGL with very nearly perfect, maximum settings. The scene is the Slovenia map of HSFX 4.1 with Effects High and Perfect Map Textures mods activated. It is fairly smooth flying and the performance is enough for me to enjoy doing practice maneuvers surrounded by such breath taking beauty. The image was magnified to show you the details that are visible. Because of this, some pixelation is evident, but you can clearly see the quality that brings me so much enjoyment. ...pretty good for a 2007 laptop computer!
Images are provided in this topic to show what to expect from very high computer graphics settings of IL-2. The above OpenGL and below DirectX should be viewed on your computer monitor with rich green, gray, blue, and brown colors. Adjust your monitor and/or graphics card color configuration in harmony with my description. You can always refer to these images and compare to your IL-2 results in order to make it clear in your mind about any need for improvement.
Here is my flying over the same region but instead of the OpenGL above, below I flew with DirectX mode:
DirectX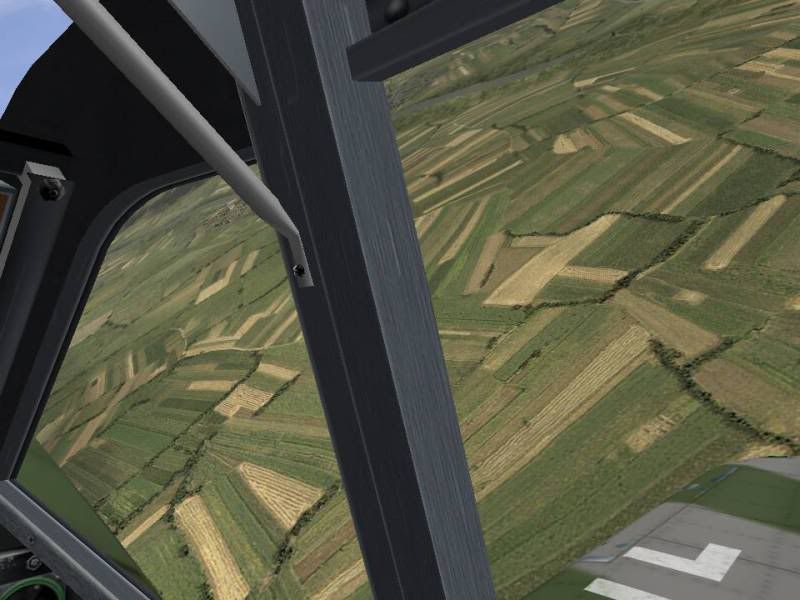 Table of Contents
Introduction
Section 1: Competing Resources
Clean Your Computer of Malware
The RAM and Page File Size - You can increase your RAM
Hardware and Software Devices
Windows Defender and the Currently Running Programs
Task Manager and Detecting Processes that Compete
"Clearing Your Desktop"
A Little Known Sap
Section 2: Important Issues Before Graphics Settings
Cooling
Stability
The Free Tools and Simple Things to Remember
Section 3: Unused Capabilities
Run IL-2 in DirectX or OpenGL?
Multi Core Utilization
Is it Safe to Overclock?
Section 4: The PC Technical Relationship to IL-2
Benchmarking Preparation
PHASE 1
Benchmarking
- - IL-2 Setup - - This is like the shoemaker who sizes the shoe. Stutter reduction settings are included.
PHASE 2
Optimization
- - Graphics Control Panel - - Establishing graphics values, like a shoemaker cutting and stitching the shoe.
Final PHASE
Tweaking
- - The confi.ini file - - This is similar in principle to the shoemaker applying finishes to the shoe.
Section 5: Bonus Additional Information
NVIDIA
Enhancements
ATI
Enhancements - Includes Links to Troubleshooting Topics - Many useful links to other helpful information is here.
References and Miscellaneous Information
Section 6: The IL-2 Community Synergy
Concluding Comments
Credits
Answer Your Questions and Appreciate Your Comments
Statement of Purpose:
The intention of this project is to guide the reader in the technical understanding of how IL-2 and the computer are connected, including instructions that are easy as possible. I desire not to detract from contributors in various communities but uniting and excellerating communication among us. Studying this topic will help everyone with IL-2.


__________________________________________________________________________________________________
What I have (stock):
HP Pavilion dv6815nr Notebook PC
(A 2007 model laptop, clearance discount for $ 550 !)
AMD Turion64 X2
Dual Core CPU, 2.0 Ghz, 3 GB RAM
NVIDIA GeForce Go7150M
Dual Core graphics with up to 1071 MB shared video memory ( Note:
ATI
info in this topic )
My latest, best performance is about 20 - 100 Frames Per Second and about 43 FPS in forward cockpit view, though I reveal how to eliminate most stuttering even with ordinary FPS.
Windows Vista Home Premium Operating System, 32 Bit (some programs can use both cores in 64 bit with configuration)
LogiTech Extreme 3D Pro - Joystick (about $ 30)
DYNEX Mouse to panview out the cockpit
Targus laptop cooling pad-under the computer
Targus external number pad (for offline quick and easy configuring and building missions, campaigns, and careers, as well as inflight control-key assignments)
____________________________________________________________________________________________________
Note before you advance:
Install IL-2 out Program Files or just move it. I have mine installed out Users folder, as well. It is among Users, Windows, and other major folders. In fact, my IL-2

is

as major folder in my C Disk. The simulation runs better than ever and has faster loads and transitions, because of a much shorter file path.
You should do the same with all other programs which you use with IL-2 while you fly.
IL-2 related downloads
- Every download that has to do with IL-2, including graphics card drivers for example, needs to be handled correctly to ensure that it works well. On occassion, an IL-2 user will think that something is wrong with IL-2 or the hardware when it was actually a corrupt download which they installed.
Handling any download, including graphics related
:
1) Scan the download for malware.
2) Test the download for corrupt files, using a program such as WinRar or 7z.
3) Open the download.
Graphics Card Manufacturer - What is the best
?
As of 2013, it makes not difference what the manufacturer of the graphics is or other major hardware components, speaking in general. If there are issues, then the need to update a graphics driver or install an older one is a possibility, but examine other solutions first: Installed IL-2 outside Program Files as you should? Running IL-2 as an Administrator? Set IL-2 in Compatibility Mode for Windows XP Service Pack 2?
Here is where you can discover how to make the most of what you have.
All users regardless of hardware type, will find very important information in this topic. Some users who think that they need an upgrade in hardware will find that with this topic, they can keep what they have an enjoy good IL-2 image and performance.
The views in this post and throughout this topic are the opinions and experiences of myself and other people. It is for the reader to compare these with other information to make decisions which are independent of my responsibility, though I desire only to help.
Suggestions for Navigating This Topic
The sequence of these posts of this topic is to allow you to handle issues in a most efficient way. Applying the suggestions of each post as needed and progressing through them in order will allow you to prevent many repeat tasks. The whole topic was designed and created with this in mind for your benefit. Take it one step at a time and you can climb to the top in the best way which is possible for you. Exciting things await you along the journey and the peak of it will delight you after you have applied all that you can in this topic.
__________________________________________________________________________________
Introduction
My sincere intention is to provide good general information with some details about how you may be able to make IL-2 more enjoyable. The topic here will put most things-where possible-in easy to understand language. Since, we have at All Aircraft Simulations many people more experienced than I on the technical details of equipment and software other than what I use, I will use mine as an example because I am familiar with it. The basic principles are the same and helpful for everybody. This will also be a nice convenient directory to give the location and authors of wonderful posts, topics, and websites. I desire to involve them by directing you to them, if you chose. Last but not least, I shall give credit where it is due.

I should summerize the nature of this topic. In it is information, instructions, and references for streamlining your computer for IL-2 and for using the free computer tools toward optimization of IL-2. Knowing what

I

overcame to understand these issues, I created a topic which contains a balance of much content and a size that is manageable for the reader.

The information is specific in nature when it applies to all or nearly everyone. On issues which have much variation among many IL-2 users, I kept things general in order for enough information to be provided for the user to take control. This way everyone will have more efficient instruction available, a kind of one topic size fits all.
___________________________________________________________________________________
Section #1: Competing Resources
Clean Your Computer of Malware
Expect malware to slow a computer and hinder IL-2.
I use
Kaspersky
as my malware scout. It is worth the $60 or so. I have tried over half-dozen defense products. No other anti-malware program that I've tried even comes close to it's capabilities. All my notifications are set to ON. It tells me everything. For more information, go to:
http://www.kasperskylab.com
Get a good anti-malware program, keep it updated daily, and scan soon after finishing your online connection or after suspicious activity. You could schedule scan and update to run while you sleep in order to not hinder IL-2.
IMPORTANT:
Immediately scan all email and files that you download. Your antimalware program should remain ON at all times.
Antimalware program monitoring will not significantly effect IL-2 performance. Keep your antimalware running at all times.
Note:
Much additional information follows this. This project is quite good to help you and more improvements will be coming. To subscribe, activate auto-notification in your profile, and post a reply.
Last edited by
Fireskull
on Fri Jun 04, 2010 10:32 am, edited 94 times in total.