Update 15-Aug-09
Hi all,
I've been working a bit on the cockpit and it's looking pretty good. I need volunteers to paint the gauges for the main controls panel (without the needle!) as separate parts using this template:
http://www.filefront.com/14289721/instr
... mplate.rar
The requirements are pretty simple:
-Layer 1 contains the black disc, do not modify it.
-Layer 2 should contain the numbers, lines and if there is any, the text inside the gauge. The color for the white lines, white text and white numbers should be pale yellow (196,197,149)
Don't put any shadows, scratches, or light effects of any kind, all I need is a clean layer with the numbers in place.
Example:
The instruments that need to be painted are for this cockpit:
http://www.nationalmuseum.af.mil/shared
... 4S-004.jpg
Most (if not all) are unreadable, but here are some pictures of them:
Dials from Hawkzz: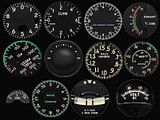 More dials:
Current dials (available ref pictures = green tick) and missing ones: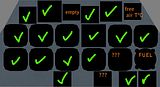 ____________________________________________________________
Credits:
========
PeterD - 3d models, UV mapping, importing, skins
Lieuwe - F-86 base skin
Flakiten - aircraft slot and class tweaking
Fatduck - Awesome exporting tool
DrJones - Awesome exporting tool
Kumpel - Awesome matrix tool
RAF_Magpie - Answering my weird questions; great hier.him guide
Special thanks to

(in order of appearance more or less):
Chaoic16 - reference material
Hawk - First base skin
Lieuwe - Second base skin; tons of sweet reference material; critical eye;
Tesla - Reference material
ex_RAAF_Elecfitter - Reference material
dzial0 - Spotting the huge canopy error
HH Enforcer - Reference material
JG14_Jagr - Spotting the intake error; history lesson on Sabre pilot helmets
stu - Sweet helmet reference material
Australia101 - Reference material
New version: 1.02
Fixes engine reliability problems (so you can play with your Panther buddies on an even field
)
Fixes problem with the front gear staying in ghost mode when the nose is destroyed.
Get it in the Aircrafts section
READ THE README!
:lol:
EDIT: Oh yeah I forgot, it still uses the P-80 FM so it doens't have airbrakes or sliding canopy.
The F-86A-5 (which will have its own FM) is "around the corner" more or less.